Cost-Effective Solutions for Semiautomatic Ball Cage Assembly Stations
Semiautomatic stations are designed so that they run while the operator performs other tasks. Aladdin Engineering & Manufacturing understands that the most successful semiautomatic systems are designed with the correct ratio of automation to labor content.  Our customer requested a machine to assist an operator with the assembly of ball bearings into a bearing cage that is used in an automotive solenoid valve.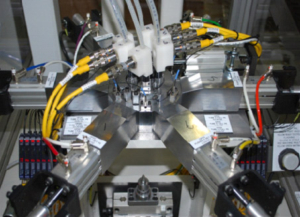 In this semiautomatic station, Aladdin engineers have given the machine the difficult task of handling the tiny ball bearings, while the operator is assigned with the easier task of loading the larger bearing cage.
The operator performs other manual tasks, while the station automatically installs six ball bearings into the bearing cage. The ball cage assembly process is 100 percent controlled by incorporating 24 Keyence photoelectric sensors to verify every machine motion and proper product placement. The station can automatically assemble a ball cage in 2.5 seconds.
Specifications
Installs six 0.121-inch-diameter ball bearings in a bearing cage
Small components make hand assembly impractical
Operator tasks: loads the ball cage and unloads the finished product
A single vibratory bowl keeps the six ball feed tubes full
Simultaneously escape and install six ball bearings in one bearing cage
24 Keyence photo eyes verify part presence at each step of the assembly process
Machine cycle time of 2.5 seconds
100 percent controlled process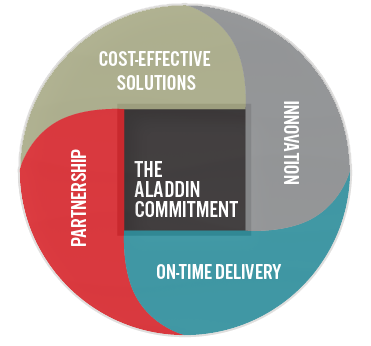 Our Commitment to Providing What You Need
Aladdin is committed to working through the challenges and thinking outside of the box while keeping safety the top priority.