Robots Make Difficult
I-Beam Level Assembly Seem Easy
Robotic assembly is used to provide flexibility, increase throughput, assure quality, and reduce labor content.   The combination of these factors will increase profit and allow for potential growth.
Aladdin's innovative solution for this automation was formed by combining customer involvement and our vast experience with solving difficult manufacturing hurdles.
Three ABB 6 axis robots were used for the majority of the assembly process. Each one was equipped with a universal end of arm tool that requires zero change over between products.
Aladdin's Engineers designed three custom part presenters that obtain and orient product from three dedicated vibratory feed systems.
Two custom press stations were designed to feed, orient and press the plastic end caps to complete the assembly. Force vs. distance feedback was used to monitor proper fitment and ensure quality.
Taking the time to understand the customer's needs led to a successful project that exceeded their expectations.
Specifications
Automatically assembled 24", 48" ,72" and 78" long I-beam Levels
Produced a Level every 11 seconds regardless of product size
Reduced needed labor down to 2 system operators
Integrated two Trekk heat transfer presses for product artwork
Incorporated Keyence vision systems to inspect artwork and grade a 2-D barcode
Welded the upper and lower plastic covers together using five Herrmann ultrasonic welders and monitored weld quality with pressure and distance feedback
Transfer the I-beam sub-assemblies through the automatic assembly process via a walking beam
Unloaded Levels to an ergonomically designed pack out station that included a locked reject drawer and locked quality inspection drawer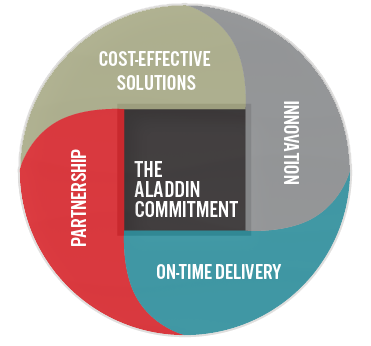 Our Commitment to Providing What You Need
Aladdin is committed to working through the challenges and thinking outside of the box while keeping safety the top priority.